---
Back To:


---
---
Things we have watched:
The list is growing all the time!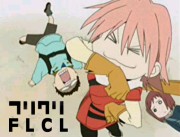 Furikuri
---
Videos:
---
If you don't already have it you can download a free version of Real Player here.
The Neo Gokuraku PTA Meeting Video:


Versions: Real Video - 2.9 megs | Mpeg - 9.5 megs
This video will be played on a nice big projection screen
at the PTA meeting on Tuesday, February 13'th as part of an effort
by the SU to show parents that there is more to Stuy than stress!

---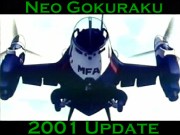 Download a 3-4 meg Real Videos of the update videos:

---
2001 Update
01/12/01 Update
---
Bebop is here:
---
Thanksgiving & Holiday posters:
---
Past Front Door Posters:
---
Trigun DVD cover scans: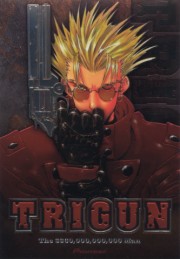 BIG (208 K) | Medium (98 K) | small (40 K)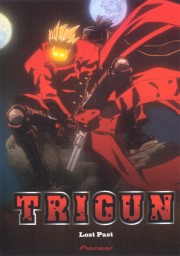 This one didn't come with a mini-poster
so I only made one size.

---
Our First Poster: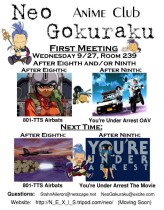 Check out the poster for our first meeting!
Yes, we know that room 239 is the program office!
No, we didn't ACTUALLY holding club there!
Yes, it is my fault! ;-)

---
NeoGokuraku@excite.com